---
PICTURESTART
2019
WEBSITE (UX, UI)
Picturestart.com
PICTURESTART is an independent media company founded in 2018 by Erik Feig, an executive and producer behind popular films
The Twilight Saga
,
The Hunger Games series
,
La La Land
,
The Hurt Locker
, and more. They came to Stink Studios to help extend their brand language by redesigning and rebuilding their website. The site needed to act as a platform to showcase previous and upcoming projects, attract investors, build excitement for fans, and ultimately express their brand ethos:
Discovery of Voice
.
The site's design and interactions took inspiration from archival film leaders, TV test patterns, and the iconic countdown that appears at the beginning of a film reel. The unique gridded navigation allows users to click on the colored panels bordering each page and move to that corresponding page. This results in an ever-changing nav that creates the feeling of exploration and makes the 4 paged site feel bigger than it is.
With the brand ethos and youth target audience in mind, we instilled discovery and fun throughout the site, with clever one-liner project descriptions, unexpected GIF hover states, a never-ending company manifesto, and showing the staff "glow-up" in their headshot photos.
︎

VISIT SITE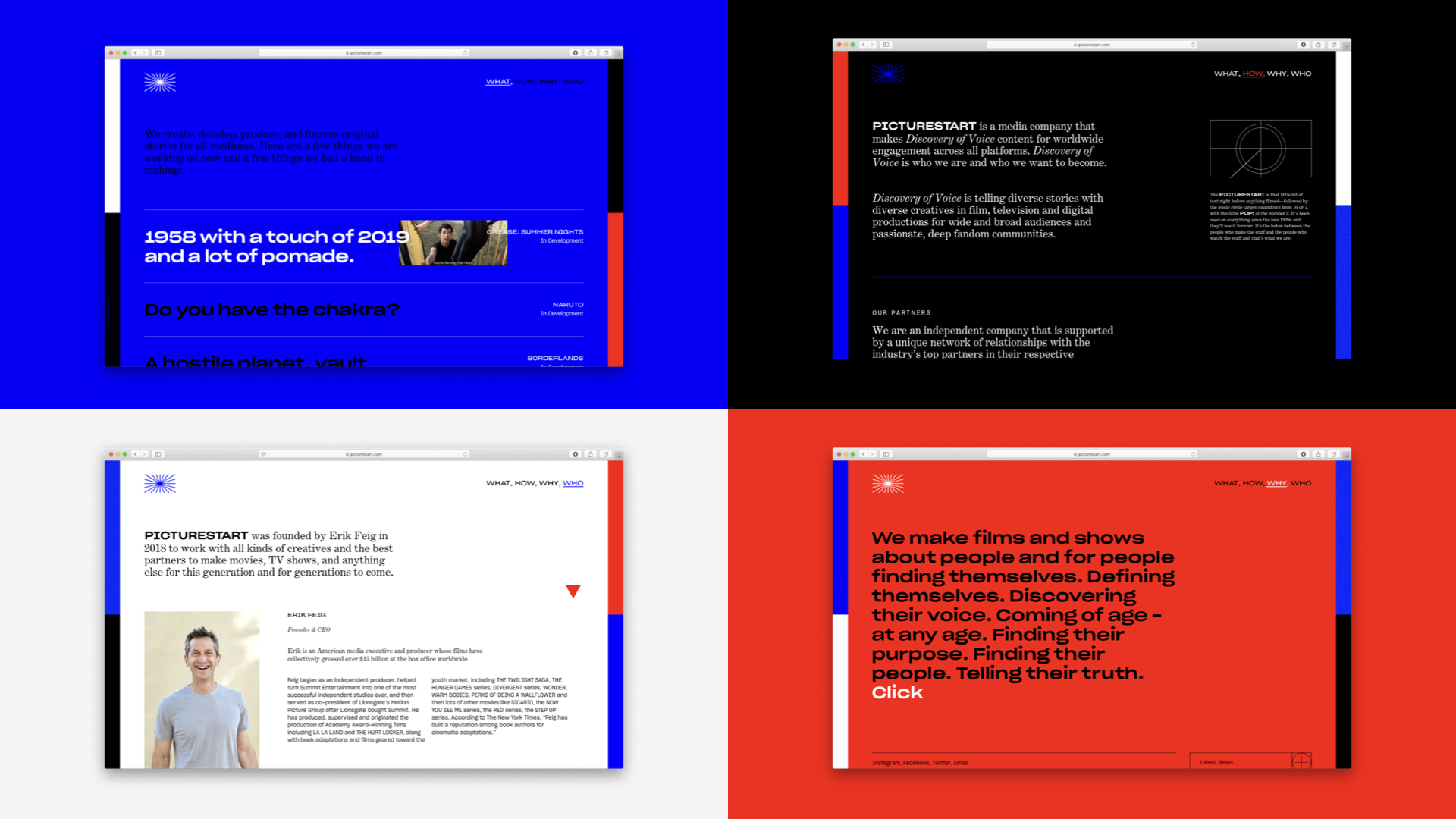 ---
GROUNDWORK INDUSTRIES
2020
CAMPAIGN (ART DIRECTION)
Get There With Serra
With the opening of a new store in Los Angeles, Portland-based cannabis company Groundwork Industries came to Stink Studios for a campaign that would build brand-awareness in a new market. The result was an omni-channel brand campaign spanning across print, OOH, cinema, digital, and social, all leading up to the 2020 Serra store opening.
We took the brand tagline, Feel All the Feelings, and created a campaign with surreal visuals that interpreted the six product feelings: Happiness, Relaxation, Focus, Energy, Creativity, and Relief. We partnered with prop stylist Todd Davis to build out our concepts, and with photographer/videographer Luca Venter to capture the scenes.
The campaign positions and introduces Serra as a quality-focused, tasteful, and modern brand that stands out in a competitive and saturated cannabis market.
︎

VISIT THE STORE
---
SPOTIFY
2020
WEBSITE (UX, UI)

The Ultimate Love Experience
To help promote Spotify's new Duo subscription plan, we partnered with their in-house team to create the Ultimate Love Experience: a site that generates a custom playlist and cover art based on your relationship and musical taste.
We worked in close collaboration with the Spotify team, taking their original concept and fleshing out the UX and UI of the site, as well as concepting and creating the nine customizable album covers. The site design is clean and minimal, with humor and irreverence in the copy and imagery of the album covers, inspired by romance tropes and cover art clichés.
With the help of machine learning, visitors can upload a photo of themselves and their partner to be seamlessly added into their selected cover. Each cover is constructed from multiple layers in canvas with configured blend modes, filters, and textures per album.
With nine album covers and nine typefaces to choose from, the outputs span a wide range of results to fit any relationship. Whether it's a friendship worth cherry-shing or a romance that's cheesier than fondue, we got you covered.
A year later, DLS became viral on TikTok and generated:
● 2.8M views on the hashtag
#duolovesongs
on TikTok
● This
video
alone got 240k likes and this
one
234k likes on TikTok
● 5.1m page views
● Visitors from 193 countries
︎

VISIT SITE
---
FACEBOOK
2019
AR TOOLKIT (ART DIRECTION, ILLUSTRATION)

New Years Eve Stories

To help ring in the New Year, Facebook came to Stink Studios to help create unique assets for their story platforms that would release globally on the eve of 2019. With 2.7 billion active Facebook users worldwide, we had to come up with themes and ideas that would resonate with a global audience of varying cultures and languages. Working with 2D illustration, 3D animation, and coding in Spark AR Studio, we created a 3D animated intro video, 3 AR face filters, 21 stickers, and 12 text backgrounds, spanning across 3 unique visual directions.


---
Esther is an Art Director, UX Designer, and Illustrator living in Los Angeles. Her design is a reflection of her interdisciplinary training, founded in creative, original illustrations, and user-focused interface. She believes strong collaboration means having a comprehensive understanding of her teammates' roles, and striving to set up others for success.

She is always eager to learn from others, gain new perspectives, and deepen her skill set by tackling new challenges in design.
CURRENTLY
---
---
PREVIOUSLY
---
---
---
---
Freelance Visual Designer for Restless Nites
---
---
CLIENTS
Nike
Wealthfront
Spotify
Google
Facebook
IBM
Netflix
Amazon
Strava
LACMA
Groundwork Industries
Picturestart
Restless Nites